---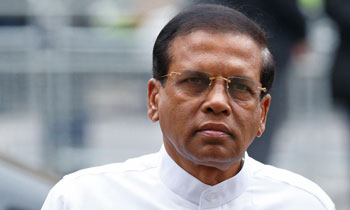 President Maithripala Sirisena would visit South Korea next week on a state visit in line with the 40th anniversary of the establishment of diplomatic ties between the two countries, Seoul's presidential office Cheong Wa Dae said Wednesday.
According to the Korea Herald, President Sirisena would visit Korea on Tuesday on a three-day visit that will include a summit with South Korean President Moon Jae-in.
"The two leaders will discuss ways to increase the countries' practical cooperation in various areas, including in the international community," Cheong Wa Dae spokesman Park Soo-hyun has told a news briefing.
He said they will also hold frank discussions on ways to enhance the friendly relationship between the governments and people of the two countries.
"We expect President Sirisena's visit to South Korea will help realize the country's New South Policy by helping to expand the area of our foreign policy to Southwest Asia following President Moon's trip to Southeast Asia," Park said.