---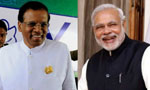 President Maithripala Sirisena will meet Indian Prime Minister Narendra Modi during his two-day visit to India on May 13.
President's Media Unit said that bilateral talks will be held on May 13, between Sirisena and Modi, after which the President will attend the Kumbha Mela ceremony (a mass Hindu pilgrimage of faith in which Hindus gather to bathe in a sacred river), scheduled to be held in Indore, Madhya Pradesh.
The two-day visit to India will be made after the President's two-day visit to the United Kingdom on May 11 and 12.
The President's Media Unit said a statue of late Sri Lankan social activist Anagarika Dharmapala is also to be declared open in Sanchi Town, Madhya Pradesh under the patronage of President Sirisena on May 14. (Piyumi Fonseka)