---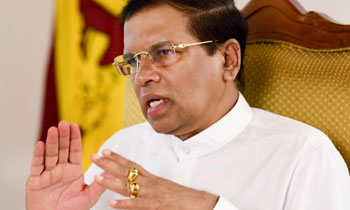 President Maithripala Sirisena has today instructed the tri-forces be deployed to provide relief to the people affected by the prevailing weather conditions across the country, the presidential media said.
It said the President, currently on an official visit to South Korea had today directed the Disaster Management Minister and the Presidential Secretary to take immediate measures to provide relief to the affected people.
"He has instructed the authorities to conduct search operations to locate the fisherman gone missing in the adverse weather conditions. The government has also decided to pay an initial allowance Rs.10 000 to the affected families," the presidential media said.
It said an urgent meeting will attended by Prime Minister Ranil Wickremesinghe and other party leaders to look in to this troubling situation.