---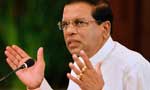 President Maithripala Sirisena today held a meeting to look into immediate measures necessary to look after the people affected by inclement weather, landslides and floods.
He discussed with officials about evacuation of people affected from landslide prone and flooded areas, settlement of displaced persons and supply of food and other requirements of the displaced persons.
The President instructed the Sri Lanka Navy to deploy more boats for rescue missions to evacuate stranded people, He told the District Secretaries to carry out relief measures immediately without bothering about financial resources as the government is committed to provide required funds.
President Sirisena also urged the health authorities to look into the health conditions of the affected people and to be vigilant about possible outbreak of diseases until the floods subsided.
During the meeting the President appointed Minister Susil Premajayantha as the Coordinator for the Colombo district to provide relief measures to the affected people in the district. Minister S.B. Dissanayake will also assist in this regard.
President Sirisena gave instructions to establish Disaster Management Centres in every district and further instructed to formulate strategies to provide required relief measures to the public subsequent to making inquiries into the prevailing situations every morning with the participation of the District Secretary, political authority and state officials.
President Sirisena pointed out it is the responsibility of the media to report accurate information about the disaster conditions arisen with the prevailing adverse weather condition. He requested the media institutions to fulfill their responsibilities appropriately for the welfare of the victims while pointing out any defects in the current program to help them.
Ministers Anura Priyadarshana Yapa, Susil Premajayantha, Rajitha Senarathne and S. B. Dissanayake, Secretary to the President, Defense Secretary, Finance Secretary and the Secretaries to the Ministries, Commanders of Tri Forces, Inspector General of Police, District Secretaries and senior public servants participated in this discussion.