---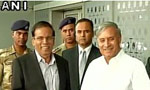 Sri Lankan President Maithripala Sirisena arrived in New Delhi this afternoon on a two-day visit during which he would address the valedictory session at the Vaicharick Mahakumbh, which is being held as part of the Simhastha Mahakumbh in Ujjain.
He was received by Union Minister Rao Inderjit Singh.
"Welcoming a maritime neighbour. Sri Lankan President @MaithripalaS arrives in New Delhi on a working visit," tweeted Ministry of External Affairs (MEA) official spokesperson Vikas Swarup.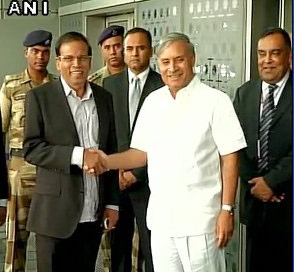 The Sri Lankan President will also visit Sanchi where he will tour the world famous Sanchi Stupa and attend a function by the Mahabodhi Society of Sri Lanka during which he will unveil a statute of Angarika Dharmapala.
He will be in Delhi tomorrow where Prime Minister Narendra Modi will host a dinner in his honour.
The relationship between India and Sri Lanka is more than 2,500 years old. Both countries have a legacy of intellectual, cultural, religious and linguistic interaction.
In recent years, the relationship has been marked by close contacts at all levels. Trade and investment have grown and there is cooperation in the fields of development, education, culture and defence. Both countries share a broad understanding on major issues of international interest.
In recent years, significant progress in implementation of developmental assistance projects for Internally Displaced Persons (IDPs) and disadvantaged sections of the population in Sri Lanka has helped further cement the bonds of friendship between the two countries. (ANI)