---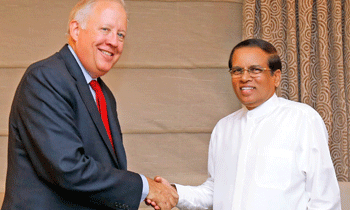 President Maithripala Sirisena was an exemplary leader working closely with all member states, the United States said yesterday.
Meeting President Sirisena on the side lines of the 72nd Session of the United National General Assembly in New York , US Under Secretary for Political Affairs Thomas A. Shannon said the US also appreciate the cooperative approach taken by Sri Lanka when dealing with regional countries.
Shannon went on to commend the country's political, social and economic rebuilding process in the post-conflict era and said the Sri Lanka followed a good foreign policy today.
Recalling the long standing friendship between the two countries, President Sirisena extended his gratitude for the assistance provided.
"Sri Lanka is committed to building peace in the Indian Ocean region", he said.
He concluded that Sri Lanka was facing an economic crisis, due to the nearly three decade long war, and expected the continuous assistance of the US in areas of development, tourism and fisheries.
The Under Secretary assured the President that the US will provide its continuous assistance to Sri Lanka and he is expected to undertake a tour to Sri Lanka in next November.