---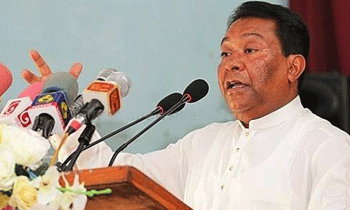 Minister S.B. Dissanayake said today the President and the Prime Minister should take a decision with regard to the individuals being revealed before the Presidential Commission of Inquiry into the Bond Issuance, while protecting the dignity of the government and political parties as it could lead to public unrest and issues within the political parties and the government.
The Minister told a news conference that it was clear that there were issues about certain names being revealed before the commission and added that it was the responsibility of the President and the Prime Minister to look into the matter.
When asked about Minister Ravi Karunanayake claiming before the Commission that he knew nothing, Mr. Dissanayake said some people who were summoned before the Commission had become speechless and said that they utter something to get away.
"They say such things maybe because they are unaware of something or maybe they do not like to accept the allegation. But the judges at the Commission ask those questions with evidence at hand," he said.
When asked whether the matter was discussed in the Cabinet, he said the President and the Prime Minister should take a decision as a political party and the government before it is taken before the Cabinet. (By Ajith Siriwardana)