---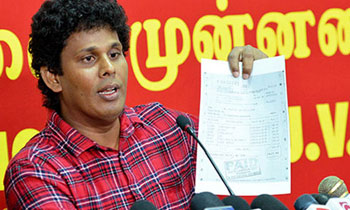 .The Executive Presidency was used to put an end to the Police Financial Crimes Investigation Division (FCID) and the Commission to Investigate Allegations of Bribery or Corruption (CIABOC), Convener of the Voice against Corruption Movement (VAC) Wasantha Samarasinghe said yesterday.
Addressing a news briefing, he pointed out that both the Prime Minister and the President were jointly attempting to put a stop to investigations carried out by the two agencies by weakening the FCID and the Bribery Commission.
"Although there are thousands of complaints lodged with the FCID, only 450 cases are being investigated at present. I don't understand for what benefit these pair are trying to postpone these investigations," he said.
He boasted that their movement has been extremely vocal on this issue. Hence, he said they had organized two seminars to educate the general public about the corrupt taking place within the government which was voted in under the disguise of bringing about 'Good Governance'.
"We urge the government to carry out transparent inquiries to identify and arrest all the wrong-doers not taking into account their importance or standing in society," he added. ( By Sheain Fernandopulle)