---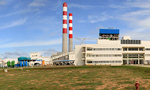 The Ministry of Power and Energy is to notify the public of possible power cuts in the coming days after assessing the damage at the Norochcholai power plant.
A breakdown in all three plants in Norochcholai has prompted authorities to assess for damages. Authorities said an internal issue was found to be the reason for the breakdown.
Ministry sources stated the power plant was at a complete standstill at the moment and that the CEB was providing electric from other sources at the moment.
"We are in the process of assessing the damage. We will notify the public tomorrow if any power cuts are needed," Minister of Power and Energy Ranjith Siyambalapitiya said.
The first plant will take five days to repair, while the second and third power plants will take a week and a month to repair, respectively.
"We should be able to manage with what we have if the public is careful with the consumption. We are also hoping to requests companies to use generators until we have finished repairs at the plant," the Minister said.