---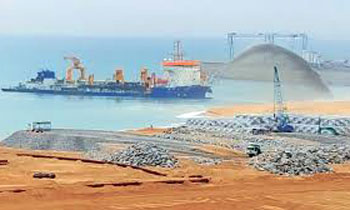 The Colombo International Financial City (CIFC), formally known as the Colombo Port City, would play an instrumental role in China's One Belt and One Road (OBOR) initiative because of Sri Lanka's strategic location on the maritime silk route, the CHEC Port City Colombo (Pvt.) Ltd. said.
Liang Thow Ming, the Chief Sales and Marketing Officer of the CHEC Port City Colombo (Pvt.) Ltd., told a Sri Lankan media delegation at the CHEC office in Beijing, China on Tuesday that the CIFC fulfils the needs and the aspirations of both China and Sri Lanka.
"Where China is concerned, we have the OBOR initiative and Sri Lanka is right in the middle of the maritime silk route. Therefore, CIFC plays a vital role there. Where Sri Lanka is concerned, it is looking at massive infrastructure investment and development in order to reinvigorate and uplift the economy," he said.
He assured those present that though the project had suffered a setback by getting delayed by a year due to the suspension of operations in March 2016, it would be completed by 2041, giving Sri Lanka a world class city for South Asia.
He said that they want to lift Colombo to the same level of top metropolitan cities in the world. "We want to put Singapore in Colombo or Dubai and maybe Tokyo. That's what we are trying to do," Mr. Ming said.
He said the CIFC project was an investment amounting to US$1.4 billion just for land reclamation and construction.
In terms of tourism, Mr. Ming said they were expecting to make Colombo a stopover destination for tourists by luring them to the CIFC. "Colombo is not a stop-over destination for tourists at the moment. They bypass it most of the time. When tourists arrive in Sri Lanka, they can visit so many other parts of the country but most don't want to see Colombo," he explained.
The reclaimed land of the CIFC would be separated into five precincts; Central Park Living with a channel and open areas, Financial District, International Island, The Marina and Island Living.
Mr. Ming said that they were also creating a lagoon, 300 metres in width, adjacent to the Galle face Green, making it safe for people to swim in.
Though the breakwater creation had been affected by the work suspension suffered by their company, the reclamation of the land taking place was on schedule and 45 per cent of the work had already been completed as of now, he said. (Lahiru Pothmulla in Beijing)