---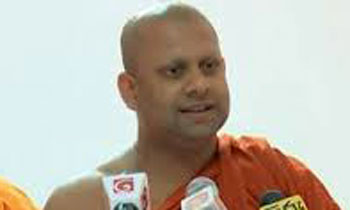 The joint opposition sponsored 'Pindapatha' programme was suspended after former presidential secretary Lalith Weeratunga and Anusha Palpita the former director general of the Telecommunications Regulatory Commission (TRC) had refused to accept money collected in this manner, Ven. Medagoda Abhyatissa Thera said today.
Several monks went on 'Pindapata' in Colombo and Kiribathgoda for the purpose of collecting money to pay the fines imposed on the two convicts found guilty of misappropriating Rs.600 million belonging to the TRC and using it to distribute ''sil redi' in support of former president Mahinda Rajapaksa.
The Thera said Mr. Weeratunga and Mr. Palpita had requested that the monies collected so far be used for some welfare work.
"So we decided to use whatever was collected to build a house for a war hero who will be selected during the next few weeks. We will not waste even a cent because the monies were offered by our devotees," he said.
When asked about the exact amount collected during the two days, JO MPs Sisira Jayakody, Bandula Gunawardane and Gamini Lokuge said the Thera was handling the monies as the Treasurer and that only he knew about the amount collected.
Meanwhile, the Thera said the monies collected was yet to be counted.
Earlier, the JO claimed that close to Rs.1 million had been collected during the 'Pindapata' held in Colombo with the participation of more than 300 Buddhist monks.(Piyumi Fonseka)