---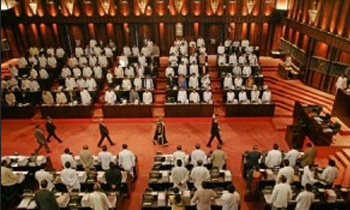 Parliament erupted in heated arguments today when joint opposition parliamentary group leader Dinesh Gunawardane charged that a draft of the Constitution has been presented at a recent seminar at the BMICH.
Mr. Gunawardane said the most Ven. Maha Nayaka Theras were alarmed as article nine of the Constitution under the status of Buddhism was to be taken away. He said this had been stated in a document which was distributed at the BMICH seminar.
Chief opposition whip Anura Kumara Dissanayake said if a document was distributed at the BMICH it was wrongas such a thing cannot happen when the steering committee had not come to an agreement on any draft.
Prime Minister Ranil Wickremesinghe who responded said what was available as of today were summaries of different proposals that had been placed before the steering committee. "The Steering committee had not come up with any draft. I will not allow the amendment of article nine as long as I remain the chairman of the steering committee," he said.
Mr. Gunawardane then argued that the Prime Minister could not deny that there was a proposal by some elements to amend article nine, while highlighting that cabinet spokesman Rajitha Senaratne had no right to state that the Maha Nayaka Theras had nothing to fear. He was referring to a statement made by Dr Senaratne at the cabinet briefing.
Prime Minister Wickremesinghe later said he had inquired from the steering committee whether any draft had been put out. "I inquired from the steering committee and they have informed me that no draft had been put out" he therefore said.(Yohan Perera and Ajith Siriwardana)