---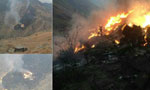 A Pakistan International Airlines (PIA) carrying 47 people crashed today on a domestic flight from the mountainous northern city of Chitral to Islamabad, aviation authorities confirmed.
Witnesses on the crash site said there were unlikely to be any survivors.
According to latest reports from the Inter-Services Public Relations, 36 bodies have been recovered from the plane's wreckage, which had scattered over a several kilometres.
"Rescue effort continues. 36 bodies recovered so far," the ISPR said in a statement, adding that 500 army personnel were taking part in the operation.
According Civil Aviation Authority officials, the ATR-42 turboprop plane with 47 passengers went missing from the radar near the town of Havelian in Abbottabad district of Khyber Pakhtunkhwa province while it was on its way to Islamabad.
The plane took off from Chitral around 3:50PM and Pakistan International Airlines said the plane crashed at 1642 local time (1142 GMT) in the Havelian area of Khyber Pakhtunkhwa, about 125 km north of Islamabad.
CAA sources confirmed a mayday call from the pilot to the control tower shortly before it lost communication with the plane.
"We regret to inform that PIA's ATR-42 aircraft operating as PK-661, carrying around 40 persons lost its contact with control tower on its way from Chitral to Islamabad a short while ago. All resources are being mobilised to locate the aircraft. Media will be kept informed as situation develops," said the PIA in a statement.
The flight crew included pilot captain Saaleh Janjua, and first officers Ali Akram and Ahmed Janjua.
Deputy Commissioner Chitral Osama Ahmad Warraich was also on board the ill-fated PIA flight. Among the passengers were nine women and two infants.
Eyewitnesses said they had seen a plane crash in a hilly area near Havelian, near the Ordinance factory. Clouds of smoke could be seen rising from the area of the reported crash.
According to a list of passengers issued by PIA, popular personality Junaid Jamshed and his wife were also on the ill-fated plane.
Jamshed, a former musician turned religious preacher and 'naat-khwaan', was in Chitral and his name was among the list of passengers on board the flight. According to list, Jamshed was on the seat 27-C.
Jamshed's brother has confirmed that Jamshed was onboard the ill-fated plane.
Pakistan has had a poor air safety track record in recent years. (GEO TV)