---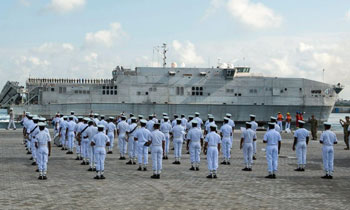 Pacific Partnership, the Asia-Pacific's largest humanitarian assistance and disaster-relief preparedness mission, would return to Sri Lanka and Vietnam this year, Stars and Stripes reported today.
During this year's Pacific Partnership exercise, which begins Friday and runs through June, the Navy hospital ship USNS Mercy will travel to Indonesia, Malaysia, Sri Lanka and Vietnam while the USNS Fall River will head to Malaysia, Palau, Thailand and Yap in Micronesia.
Events will include civic-action projects, community health exchanges, medical symposiums and disaster-response training.
More than 800 personnel from the US Navy and other countries are involved in the mission, which began in response to a deadly tsunami that ravaged parts of the region in 2004.
This marks the second year Pacific Partnership will visit Sri Lanka. In October, the USS Nimitz and its strike group made a port call in Colombo, becoming the first US aircraft carrier to do so in three decades.
This year's Sri Lanka stop will be similar to 2017's mission, said Task Force 73 spokesman Lt. Cmdr. Arlo Abrahamson.
"The scope of engagements is on a similar scale with a variety of medical, civil engineering products and community engagements over the course of two weeks," he said.