---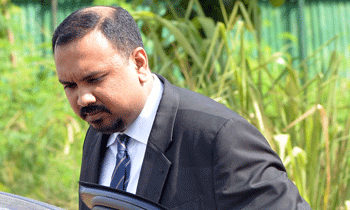 A heated argument took place during the PCoI proceedings yesterday when PTL lawyer Nihal Fernando PC attempted to continuously interrupt during the cross-examination conducted by DSG Gunatilleke on PTL CEO Kasun Palisena.
While DSG Gunatilleke was questioning the witness, Mr. Fernando PC on several times tried to indicate answers to those questions before the witness gave answers. But the DSG objected to that and emphasized "let the witness talk not the counsel".
However, after a while, when DSG Gunatilleke questioned the witness, Mr. Fernando attempted to explain matters to the Commission again.
DSG Gunatilleke: Mr. Fernando don't disturb the questioning
ASG de Livera: Now what is your problem? (Asked in an aggressive manner from Mr. Fernando)
Nihal Fernando PC: No problem
ASG De Livera: Then shut up!
At this point Chairman of the Commission Justice Chitrasiri and Commissioner Justice Prasanna Jayawardena criticized the word (shut up) used by the ASG.
ASG De Livera said the line of cross-examining has come to a crucial point at that moment and PTL's counsel was interrupting trying to indicate certain things to the witness by intervening in the questioning.
However, Justice Chitrasiri said if that was the case, the ASG should inform it to the Commission in a decent manner not using such inappropriate words.
Justice Jayawardena remarked that the ASG's behavior was uncouth and not acceptable.
ASG De Livera then said: "I had to intervene in this because he has been doing this all the time and this commission had not absorbed it so far."
Justice Jayawardena then said that the behavior of the ASG does not suite to an Acting Solicitor General.
ASG Livera said, "Now.. PTL's lawyer had been indicating things systematically to the witness during the cross-examination, so is that behavior pardonable?"
Justice Jayawardena: Then tell him not to interrupt
ASG: I told him.
At this point Mr. Nihal Fernando PC also engaging in the argument began to elaborate what he was about to say.
However, both DSG Gunetilleke and ASG Livera aggressively prevented counsel Fernando from further expressing himself.
Concluding the heated argument then Justice Jayawardena told Mr. Fernando PC:
"There are two matters here. One is you cannot interrupt when DSG Gunetilleke is cross-examining the witness and the behavior of ASG Livera is another matter". Justice Jayawarane thereafter asked the DSG to continue. (Shehan Chamika Silva)