---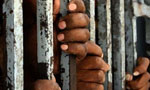 More than twenty prisoners held under Prevention of Terrorism Act (PTA) are on a hunger strike in Anuradhapura Prison.
The prisoners, who commenced the fast at 6 am today, urged the authorities to put them on trial without further delay.
They claimed that President Maithripala Sirisena had assured them of a speedy prosecution.
Some prisoners, taken into custody for alleged links to the LTTE, have been detained for eight years. (Dayarathne Abogama)