---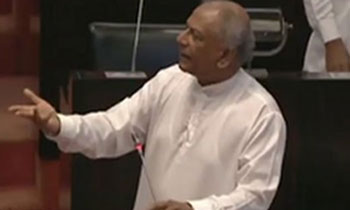 The joint opposition said today the Public Security Ordinance (PSO) was not legally approved in Parliament according to Standing Orders and parliamentary tradition even though the government claimed it was properly approved.
JO MP Dinesh Gunawardane said according to the Constitution and SOs, the mace should be in the house to approve an Act of Parliament but it was not so when the public security ordinance was approved yesterday.
"The Constitution clearly mentions that parliament should act according to Standing Orders. Instead what happened yesterday was a violation of SOs," he said.
The MP said the government called for a vote after the debate on declaring fuel distribution and supply an essential service without allocating time for a reply.
He claimed that those involved in attacking trade union leaders during the petroleum strike had not been arrested so far.
Former speaker Chamal Rajapaksa said the government was trying to suppress the opinion of the opposition and pointed out that the income from the Hambantota port had reduced during the past two years when compared with 2014.
"We cannot accept the government's claim that the port had been leased because of loans and losses," he said. (Ajith Siriwardana and Yohan Perera)
Video by Sanjeewa