---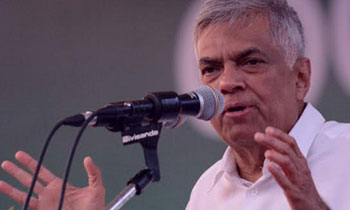 The biggest issue at hand was the report of PRECIFAC, as it had recommended stripping former President Mahinda Rajapaksa's Civic Rights for life, Prime Minister Ranil Wickremesinghe said at an election rally in Deniyaya.
He said that those who suggested the SLFP and Joint Opposition should unite, should consider the recommendations made by the Presidential Commission of Inquiry to Investigate and Inquire into Serious Acts of Fraud, Corruption and Abuse of Power, State Resources and Privileges, whether the two parties could get together in a situation, where the Commission had called for the stripping of Mr Rajapaksa's Civic Rights," he said.
The Premier said that he had requested Speaker Karu Jayasuriya to convene Parliament on February 8, 2018, to take up the debate on Bond Commission report and the PRECIFAC Report.
"There is no issue in having a debate on the Bond Commission report as there is nothing new about it. We have had several debates on the issue," he said.
Mr Wickremesinghe reiterated that the ruling party should be given the mandate to run local bodies to avoid political turmoil that may occur if local bodies headed by other parties sabotage development work.
Minister of Law and order Sagala Ratnayake said the Minister of Justice would submit a paper pertaining to the setting up of Special courts to hear corruption cases in a few days time.
Minister Gayantha Karunathilaka said it would not be possible to change the President or the Prime Minister after the Local Government election as it was only a poll held to elect representatives for local bodies.(Yohan Perera)