---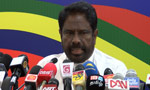 SLFP Minister Wijith Wijayamuni Zoysa said yesterday that it was the former president Mahinda Rajapaksa who governed the country using executive powers sidelining the premier and going against democratic values.
He made these remarks in response to a statement made by former President and Kurunegala District MP Mahinda Rajapaksa that the country should be governed either by the President or the Prime Minister without contradicting each other.
Addressing a media briefing at the SLFP headquarters, the Minister said the prime minister of the previous governments had been kept as a puppet by the executive president.
"It was the Executive which dominated the country though the sovereignty of the government must be based on the executive, legislation and the judiciary. These three branches of governance should work together and equally," the Minister said.
He said the three branches of sovereignty operate independently under the 'Yahapalanaya' government today.
"Therefore, the country is now stable politically, economically and internationally. Our country is now being recognized by the international community. The international respect is not for President Sirisena, but for the policies of the state, conventionalism and the democratic agenda," he said. (Chaturanga Pradeep)