---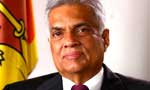 Prime Minister Ranil Wickremesinghe would undertake an official three-day visit to New Zealand in early October, New Zealand Prime Minister John Key has announced today.
A press release issued by the New Zealand Government said Prime Minister Wickremesinghe will visit New Zealand from 1-3 October.
Prime Minister Key said he was very pleased to welcome Mr. Wickremesinghe to New Zealand. "This will be the first time a Sri Lankan Prime Minister has undertaken a bilateral visit to New Zealand, and is an important step in the growing relationship between our two countries," he said.
"When I visited Sri Lanka in February, I was struck by the range of exciting opportunities for New Zealand, and an increasing number of New Zealand businesses are recognising this potential.
"Under Prime Minister Wickremesinghe's leadership, Sri Lanka has entered a new phase in its post-civil war development. New Zealand is keen to support the important steps the country is making towards reconciliation and rebuilding through increased political and economic contact."
Prime Minister Wickremesinghe will be accompanied by his wife, Professor Maithree Wickramasinghe, four Sri Lankan Ministers and a Sri Lankan business and media delegation.
Mr. Wickremesinghe and his delegation will be formally welcomed in a ceremony at Government House in Auckland on 1 October, followed by bilateral talks. They will also attend a range of official, business and community events in Auckland, Waikato and Wellington.