---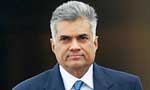 Prime Minister Ranil Wickremesinghe would seek the opinion of Parliament on the security vehicles to be ordered for him, a statement from his office said.
"The decision to seek advice from the House has been made as several MPs including Chief Opposition Whip Anura Kumara Dissanayake had made certain statements about the matter," the statement said.
The statement said only Rs.128 million had been spent for the two vehicles. It said the Prime Minister never had security vehicles, when he assumed office.
"Mr. Wickremesinghe never got new vehicles even after he assumed duties in 2015," the statement said.
It mentioned that Premier Wickremesinghe was using his private vehicle since he took office. "The existing vehicles are fairly old and Rs.9 .8 million has been spent for repairs today," the statement added.
The statement said that security vehicles had been provided since the time of late Prime Minister D. S. Senanayake. (Yohan Perera)