---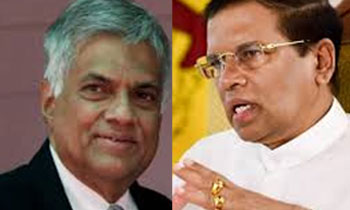 Prime Minister Ranil Wickremesinghe obtained the consent of President Maithripala Sirisena to form a UNP government in place of the current unity government between the United National Party (UNP) and the Sri Lanka Freedom Party (SLFP), a source close to the UNP said today.
The Prime Minister met the President in the wake of the February 10 local council elections which saw the defeat of both the UNP and the SLFP.
Sources close to the Prime Minister told Daily Mirror that the President had informed Prime Minister Wickremesinghe to form a government if he could muster a majority in the House.
The President had also informed the Prime Minister that he would request the MPs who want to remain in the SLFP to join the UNP if it could muster a majority.
Sources said the UNP would reveal the details of its majority by Thursday, February 15.
It was also reported that the other parties in the United National Front (UNF) had also agreed to form a UNP-led government.
The Tamil National Alliance (TNA), which is the main opposition in Parliament is also said to be prepared to support the government but would not accept any ministerial portfolios. (Yohan Perera)