---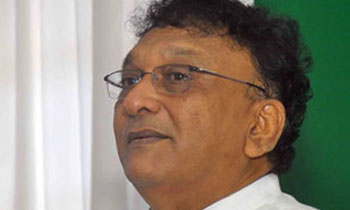 The United National Party (UNP) stressed that its leader Prime Minister Ranil Wickremesinghe was to go before the bond commission (PCoI) today to give evidence was not a suspect in the case but would appear before the Commission voluntarily, UNP Senior Vice President Lakshman Kiriella said today.
Mr. Kiriella came out with this statement in response to continuous allegations made by the Opposition that the Government had become helpless as Prime Minister had been summoned before a Presidential Commission for the first time in the history.
The latest allegation came from Joint Opposition MP Vasudeva Nanayakkara.
Meanwhile, UNP Colombo District MP Mujibur Rahuman also stressed that Mr. Wickremesinghe would be going before the commission voluntarily, at a separate media briefing on Saturday.
"An Opposition MP was appointed as Chairman of COPE following the Treasury Bond incident. During the former Government, all those appointed to the Committees were Government MPs. When MP Wijeyadasa Rajapakshe was the COPE Chairman, the Government prorogued the Parliament and appointed D. E. W. Gunasekara as the COPE Chairman. It is only under the present government that probes are conducted independently," he said.
However, the opposition is of the opinion that the Government had become helpless with the development of the probe on the bond issue.
Joint Opposition MP Mahinda Yapa Abeywardene came out with this notion at the Committee Stage debate on the budget, while MP Vasudeva Nanayakkara said the Prime Minister had been called upon to face the Commission on the bond scam.
JVP MP Dr. Nalinda Jayatissa was of the opinion that Prime Minister Wickremesinghe was directly responsible for the scam for several reasons, such as ordering that the bond issue should be done under direct placement method, as he was behind the appointment of a non-citizen of Sri Lanka as the Governor of Central Bank, taking Central Bank under its purview, appointing lawyers attached to UNP to probe the bond scam, removing UNP MP M. Velukumar from the COPE in the middle of the investigation and filling the vacancy with Deputy Minister Sujeewa Senasinghe, who had already written a book titled Ettha Nettha on the issue and getting Venerable Thiniyawala Palitha Thera of the UNP's Bhiikhu Front to file a petition before the Supreme Court against the COPE Report after the release of the report. (Yohan Perera)