---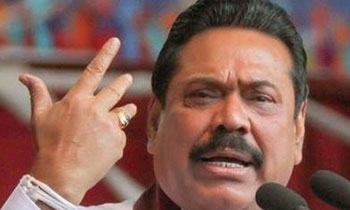 Former President Mahinda Rajapaksa speaking in Wellawaya on Saturday (27) said that he would request that the debate on the report of the Presidential Commission of Inquiry (PCoI) appointed to investigate the alleged Central Bank bond scam be held in Parliament before February 7, if possible.
Addressing a rally held in Wellawaya town in support of Sri Lanka Podujana Peramuna (SLPP) Rajapaksa said that the people would not know the outcome of the debate if it were held on February 8 in order to make an informed decision at the forthcoming Local Government elections.
"The Prime Minister has said that the debate into the bond report would take place February 8. If he gets his wish the people will be left in the dark with regard to the contents of the report. It has to be debated on February 7," the former President re-iterated.
He also pointed out that President Maithripala Sirisena recently made some irresponsible comments about how a major part of the loan taken during the time the previous regime was in power, i.e. Rs. 9 trillion out of the total of Rs. 10 trillion, which according to him were not befitting the post of President.(I.R.Indika)