---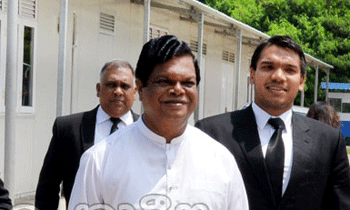 The Commissioners of the Presidential Commission of Inquiry (PCoI) appointed to look into the Bond Sale issue today severely criticized Joint Opposition MP Bandula Gunawardane for making false comments to the media and advised the MP to prevent from doing so in the future.
MP Gunawardane today admitted before the Commission that the comments he gave to media saying he had sent a report to the PCoI, was false.
The Commissioners, who advised the MP, recordered a statement from him as well. MP Gunawardane earlier requested the commission to provide him a time and date to submit evidence on the Central Bank Bond issue.
Accordingly, the Commissioners on Wednesday instructed him to appear before the Commission on Thursday. JO MP and Lawyer Namal Rajapaksa appeared for MP Gunawardane.
Evidence of the MP was led by Additional Solicitor General and President's Counsel Dappula De Livera who assists the Special Commission. (Manopriya Gunasekara)