---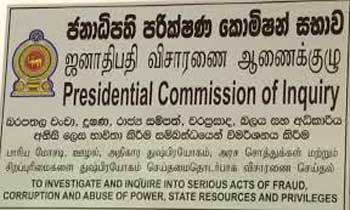 Proceedings at the Presidential Commission of Inquiry (PCoI) appointed to go into the alleged scam that occurred in the issue of Central Bank(CB) treasury bonds, will resume from November 2, sources revealed yesterday.
The hearings will resume with the testimonies of two CID officials.
On October 17 the Presidential Commission of Inquiry (PCoI) concluded its recording of evidence stating that in the event new evidence surfaces they would commence proceedings with a day's notice being given.
The third term of the PCoI was to end today (27). However, President Maithripala Sirisena recently extended the term of the PCoI by six weeks giving it time till December 8 to conclude its affairs.
The Attorney General`s Department had asked for more time to complete its investigations into the bond issue before the final report of the PCoI could be handed over to the President.
'I think for the team the job is not over, the task is still outstanding and as far as this Commission is concerned our job is still not over'- Acting Attorney General Dappula De Livera said earlier adding to what was stated by ASG Yasantha Kodagoda earlier, who said, "If we don't get that opportunity, this would then be a half-baked cake. Therefore, we would like the President and the general public to receive a fully baked cake in the form of a report. (Shehan Chamika Silva)