---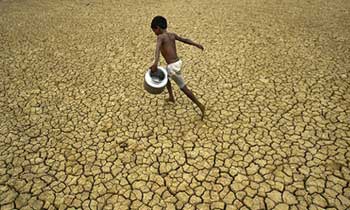 The total number of people affected by the prevailing drought had increased over one million, the Disaster Management Centre (DMC) census said today.
The DMC said that eight provinces out of the nine, where people in 17 districts were hit by the drought.
According to the DMC latest situation report 1, 093, 717 people belonging to 314, 049 families had been severely affected by the prevailing drought.
The Northern Province is the most affected Province with a total of 462, 815 individuals belonging to 133, 678 families being hit by the drought.
The North-Western Province and the Eastern Province followed with a total 281, 013 people belonging to 82, 513 families and 211, 736 people belonging to 59, 003 families respectively.
In the Kurunegala District 149, 962 individuals belonging to 45, 730 families were affected by the drought.
Meanwhile, 79, 602 people belonging to 23, 285 families in the North-Central, 20, 641 people belonging to 5, 904 families in the Central Province, 29, 868 people belonging to 7, 668 families in the Uva Province, 812 people belonging to 183 families in the Sabaragamuwa Province and 7, 230 people belonging 1, 875 families in the Southern Province reportedly affected by the drought.
The DMC report said that out of 17 affected districts, drinking water was provided to selected areas in ten districts.
Meanwhile, the Meteorology Department said that showers or thunder showers could be expected in the in Central, Sabaragamuwa and Southern Provinces and several spells of shower will occur in North-Western Province today. (Thilanka Kanakarathna)