---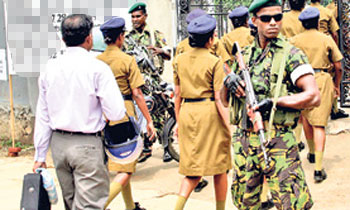 A total of 65,758 Police and STF Personnel would be deployed for the Local Government Election duties to be held on Saturday, Police Spokesman SP Ruwan Gunasekera said yesterday.
He said the security personnel would be assigned to the duties at polling stations, counting centres, mobile patrolling and roadblocks.
"5,984 Police Officers, 412 Women Police Officers, 4,381 Women Police Constables, 4,178 STF Personnel are among those deployed for duties," he said.
SP Gunasekera said another 5,953 Civil Security Department (CSD) Personnel would also be deployed for assistance.
"A total of 26,840 Police Personnel will be deployed at 13,420 polling stations, while 3,225 mobile patrolling units, comprising a total of 13,552 Police, STF and CSD Personnel will be assigned for the duty.
"Each mobile unit will cover three polling stations and another 99 mobile units of the STF comprising 1,174 STF personnel, will be deployed for several areas to maintain law and order," SP Gunasekera said addressing a press briefing.
He said more than 1,100 Police Personnel would be assigned to 140 riot squads and 3,248 Police Personnel would engage at 464 roadblocks, across the country.
SP Gunasekera said military assistance would also be obtained on the day after the election if needed. (Darshana Sanjeewa)