---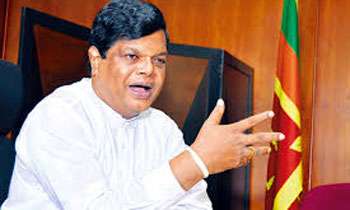 The Opposition yesterday questioned the delay in presenting the English and Tamil translations of Bond Commission report and the report of Special Presidential Commission which looked into serious financial crimes so that Parliament could resume the suspended debate on it.
Speaker Karu Jayasuriya who responded said he was constantly in touch with the Presidential Secretariat on the translations.
Joint Opposition MP Bandula Gunawardane who raised the issue in Parliament recalled that the debate on the bond commission and special presidential commission report was suspended following an objection raised by TNA MP M. A. Sumanthiran, who called for the English and Tamil Translation of the special commission report.
He, therefore, questioned the Speaker as to when the English and Tamil translations of the commission report would be submitted to the House.
"It is important that this House debate on the worst financial crime taken place in the country and we would like to know as to when the needed translations expected to be ready.
MP Dayasiri Jayasekera questioned as to whether Parliament was taken for a ride.
Chief Opposition Whip Anura Kumara Dissanayake questioned as to whether there was a conflict of interest as the daughter of one member included in the presidential commission appointed to look into the bond scam was reported to be working at the Prime Minister's office (Yohan Perera and Ajith Siriwardana).