---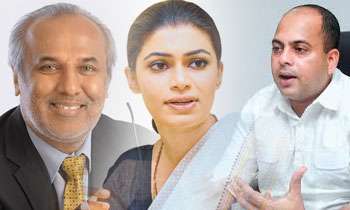 Several opposition MPs today requested Speaker Karu Jayasuriya to order media to refrain from indicating that there is a government in the country at the moment in their news reports.
This request was made by MPs S. M. Marikkar, Hirunika Premachnadra and Rauff Hakeem.
"You have officially mentioned that there is no government, a Prime Minister or a Cabinet at the moment. Therefore, it is appropriate that you order them not to indicate that there is a government, a Cabinet and a Prime Minister. Media refer to Mr. Mahinda Rajapaksa as the Prime Minister and calls others in UPFA as ministers. This is not correct as you have declared that there is no government at the moment while the official Hansard in Parliament had reported the same. Therefore you should order the media to change the ways they report," Mr. Hakeem said.
Ms. Premachnadra said media should stop being servile to certain politicians. (Yohan Perera and Ajith Siriwardana)