---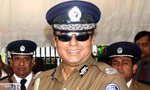 Rejecting reports that the police had no right to shoot at a vehicle for disregarding an order to stop, IGP Pujith Jayasundara said today the police could use minimal and necessary force in such cases.

He said the 53rd Clause of the Police Ordinance explains how and when to use minimal and necessary force.

"The Criminal Procedure Code, Evidence Ordinance and the Penal Code too stipulate as to how the police could take action. What's important when executing action is whether there is an environment created to use force. However, when it comes to the incident in which two Jaffna University students were allegedly killed by policemen, it seems there was a shortcoming on the part of the police officers," he told the journalists at an event held in Anuradhapura to mark the 150th Anniversary of the Police Service.

The IGP said it was questionable whether there was the need to open fire at the students as the incident was not a robbery, organised attack or other life threatening event.

When asked about the Chunnakam incident in which two police intelligent officers were attacked by a gang, he said the assailants had attacked the officers without knowing their profession since they were on civics.

However, a group called 'AAVA Gangsters' claimed the responsibility for the sword attack on the two police officers and said the incident was an act of retaliation for the death of the university students. . (Athula Bandara)