---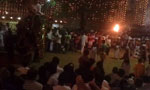 A 60-year-old woman was killed and 11 others injured when an elephant went on rampage at the Ratnapura Maha Saman Devalaya before its final Perahera commenced last night, Police said.
They said the injured were admitted to the Ratnapura Hospital.
Initial investigation revealed that the deceased, J. Leelawathi of Niriella, had been under treatment for blood pressure.