---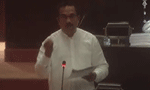 A fully local permanent office was needed to provide redress to the relatives of missing persons, the Janatha Vimukthi Peramuna (JVP) said yesterday.
JVP MP Bimal Ratnayake, speaking during the debate on the Office of Missing Persons Act, in Parliament, said such an office was needed to mete out justice to the relatives of those who had gone missing during the past few decades.
"There was unrest in the country in 1971, 1983, 1987-89 and 2009 to 2015, when a large number of politicians, artistes, journalists and civilians were killed or went missing, and no proper investigations were made regarding them. The commission appointed to look into the incidents of 1987 to 1989 had received information of 33,000 who had been killed and disappeared. A similar situation had taken place in the North. Therefore justice has to be done by the people in the North and the South," he said, emphasising that a permanent office of missing persons was necessary to mete out justice to everyone.
He said even the family members of JVP founder Rohana Wijeweera had not seen his dead body. He said the only known fact about Wijeweera was that he had made a public speech after his arrest.
However, Mr. Ratnayake suggested some amendments to the legislation -- such as that the power which the missing person's office had to sign MoUs with local and foreign bodies should be taken away.
He also suggested that the power which the office enjoyed to generate funds should be amended.
These two changes, he said, would make the office truly local. (Yohan Perera and Kelum Bandara)