---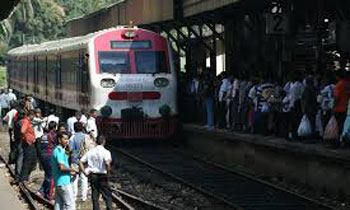 The work stoppage to be launched from today midnight by railway workers attached to several trade unions was called off following discussions held with Transport and Civil Aviation Deputy Minister Ashok Abeysinghe, co-convener Lal Ariyaratne said today.
He said the Train Controllers Union, Railway Engine Drivers Union, Railway Station Masters Union and the Railway Guards Union had yesterday decided to launch an indefinite strike, if their demand for a salary increase was not granted.
"The deputy minister assured us we would be granted relief after referring the matter to President Maithripala Sirisena through Prime Minister Ranil Wickremesinghe," Mr. Ariyaratne said.
He said the National Salaries and Cadre Commission had not followed the instructions given by Prime Minister's Secretary Saman Ekanayake with regard to increasing their salaries and added that Mr. Ekanayake had instructed the commission to grant a pay hike under the circular 6/2006.
"During the previous strike, we demanded the Railways Department to increase the salary scale of Engine Drivers, Guards, Station Masters and Controllers to MP1 and MP2 categories," he added. (Chaturanga Pradeep and Kalathma Jayawardhane)
Video by Susantha