---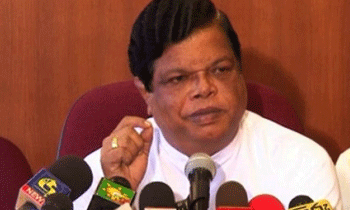 The joint opposition said today there was no point in Prime Minister Ranil Wickremesinghe blasting public servants for failing to deliver relief to flood victims when no funds had been released by the Treasury to carry out such work.
JO MP Bandula Gunawardena said the economy was in a state of stagnation because of the short-sighted fiscal policies of the government.
"Former finance minister Ravi Karunanayake should be held responsible for this crisis situation because the relevant officials had not received the funds that were allocated for this purpose. In 2016, he had failed to release 32% of the funds allocated to the education sector. In the case of the 2016 Budget, he had failed to use 20% of the allocated funds. When there is no currency in circulation, how can people spend money," he told a news briefing.
He said the economic crisis had worsened from 2001 to 2004 and former president Mahinda Rajapaksa had to overcome this crisis in 2005.
"However, he resuscitated the economy gradually and reduced the quantum of state loans. When there was the war, the amount of loans increased. The balance debt was reduced to 71.3 per cent by 2014 but it had increased abnormally since 2015. The Auditor General's reports say the debt had been increased to 83.3 per cent today," he said. (Lahiru Pothmulla)