---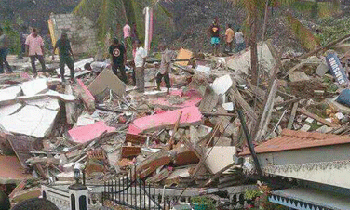 The government today said that no more garbage will be dumped at the Meethotamulla site, where at least 17 persons were killed following the collapse of a part of the garbage mountain yesterday.
Deputy Foreign Affairs Minister Dr. Harsha de Silva said that the government has identified two temporary sites to dump garbage.
"No more garbage will be dumped at this site and two temporary sites were identified this morning," Dr. Silva said in a facebook status.
He also revealed that the State will bear all funeral expenses of the people who lost their lives and immediately begin evacuations of those who are under any threat.
"It's ironic that it was only a few weeks back that agreements were signed to begin waste to energy projects to finally deal with this perennial issue," he said.
However, he said that it's unfortunate that even though payments had been made for those families under risk of landslides to move out, some had not done so. They had even been advised to leave as recently as two days ago.
On the instructions of President Maithripala Sirisena and Prime Minister Ranil Wickremesinghe, a coordination committee to management of the situation was established this morning.
Ministers Susil Premjayantha, Patali Champika Ranawaka, A H M Fowzie, Dr Harsha de Silva, Sagala Ratnayake, Mohan Lal Grero, MPs S M Marikar and Mujibur Rahman, Army Commander and the IGP and all relevant government officials were present at a meeting held today in this regard.
Major General Sudantha Ranasinghe has been appointed as in charge of search and rescue operations. An area of about 150m by 75m is being carefully cleared up during operations.
Already, about a hundred people have been shifted into temporarily holding locations such as schools.
Others will also be shifted as well. The Prime Minister has ordered the release of all necessary funds from the Treasury to deal with all financial requirements, Dr. Silva added.