---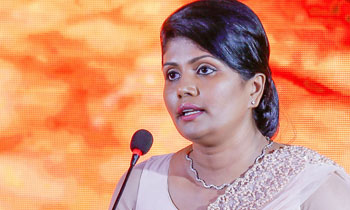 President Maithripala Sirisena's daughter Chaturika, said at today's launch of the book authored by her and titled, "Janadhipathi Thaththa", that she had no intention of entering party politics but would use politics for community service, women empowerment and social justice.
"So many people, including my friends keep asking me when I enter politics. I am reminded of what Aristotle said that man is either a political animal or an outcast. Though I agree with him, I have no desire to indulge in politics but to engage in social welfare," she said at the ceremony held at the BMICH at the launch of the book which describes her father's political journey.
Ms. Sirisena said from early childhood she realised that her family was different from other families in the village. She said, she, her sister and brother were inquisitive and witnessed the numerous meetings held at their home with people walking in and out most of the day.
"When my father was engaged in grassroots level politics, people used to ask him why he was still in local politics and why he did not enter Parliament. During the civil war, many of my friends came to school directly from nearby forests where they slept overnight for fear of being attacked by the LTTE. When my mother brought my lunch to school I offered it to other students who did not have any food for breakfast. My father has escaped unhurt from five attempts on his life by the LTTE probably because he was destined to lead this country to a new era and give our people new hope and freedom. However, we lived in constant fear of terrorist attacks and my mother was in the habit of not having her lunch or dinner until my father returned home," she said.
Ms. Sirisena said her friend Dulanjalee, former President Ranasinghe Premadasa's daughter, continued to tell me during the presidential election campaign to keep an eye on her (Chathurika's) father because there were attempts to poison President Premadasa when he was alive.
"Dulanjalee specifically told me to inspect vegetables and fruits supplied to my house before letting my father eat them. As politicians' children of politicians we have suffered beyond limit.
My father never mixes his personal life with politics and never talks politics at home. But as a family we were ready to face any challenge based on his political decisions whether good or bad. When my father decided to contest the 2015 presidential election as the common candidate the entire family was behind him and we did our utmost to protect him until he took oaths as Sri Lanka's new President," Ms. Sirisena said.
She requested academics, writers and the media to review her book and pinpoint shortcomings and mistakes if any so that she could correct them in future editions.
The first copy of the book was presented by the author Chaturika Sirisena to her father President Sirisena and her mother Jayanthi Sirisena. She also presented copies of the book to Prime Minister Ranil Wickremesinghe, Sunethra Bandaranaike and Dulanjalee. (Sandun A Jayasekera)