---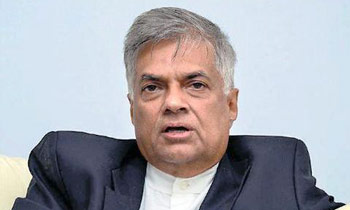 There is no draft on the MoU with regard to Hambantota Port with China Merchant Company as the government has not got into an agreement with the Chinese company, Prime Minister Ranil Wickremesinghe told Parliament yesterday.
He came out with this remark in response to a question raised by joint opposition MP Dallas Allahaperuma as to whether the government would present the draft agreement to the House last afternoon.
Further the Prime Minister said the government is looking for the possibility of increasing its stake of the Hambantota Port further from the intended 40 per cent that it has planned to earn after the agreement with the Chinese company completes ten years,
" Government will gain a stake of 40 per cent of the port after the agreement on the intended joint venture complete ten years but we are looking for the possibility of increasing our stake further," he said.
Responding to a supplementary question by Mr. Alahaperuma as to why the government has to followed internationally accepted norms in making assessments on the port, the Prime minister said it was the previous government which did not follow international norms. He said the then government agreed for a 48 month grace period and gave the ownership of the port and then also agreed to pay off the loans with high interests.
The Prime Minister added that this government is trying to go for a joint venture to pay back the loan taken by the previous government to construct the port.
Mr Allahaperuma then responded saying people have got confused about the project as the Minister of Port had said Cabinet had not given the nod for the project though the Cabinet spokesman, has said the Cabinet approval was given. (Yohan Perera and Ajith Siriwardana)