---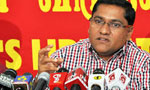 The amended VAT Bill which the Government assured was being prepared with the people's well-being in mind is almost similar to the Bill introduced some months ago, with the only difference being the few changes made to mitigate protests by traders, the Janatha Vimukthi Peramuna (JVP) said today.
JVP Propaganda Secretary and MP Vijitha Herath said the Government had not removed the VAT imposed on essential commodities, on healthcare and telecommunication despite mounting protests from all quarters other than to cater to the demands of the business community.
"Even though the SLFP ministers claimed that the new Bill includes their proposals, they do not appear to have objected to the VAT imposed on essential goods and services. They have also been a part of the Cabinet which approved amended VAT Bill. We urge the SLFP ministers and MPs to vote against this Bill in parliament to prove they had objected to it," he said.
Mr. Herath said milk powder and air tickets had also been subjected to VAT while the VAT imposed on telecommunication remained the same.
He said the Government had blatantly broken its pledge to reduce indirect taxation and increase direct taxation to reduce the burden on the people.
Mr. Herath said the reason behind the VAT increase was to carry out the assurance given to the International Monitory Fund (IMF) to increase state revenue through taxation so as to fulfil the terms and condition of the IMF loan the Government hoped to obtain.
"The new Government's economic policy is also a non-starter and in a mess just as that of the previous government. It has no alternative to solve the economic crisis faced by this country other than to impose tax, reduce concessions and obtain loans," he said.
Mr. Herath said the Government must formulate a mechanism to pay back the tax revenue collected from the people through the VAT increase before the Supreme Court stops it.
"We are opposed to the new VAT Bill and we will vote against it in parliament," he said. (Ajith Siriwardana)
Video by Danushka