---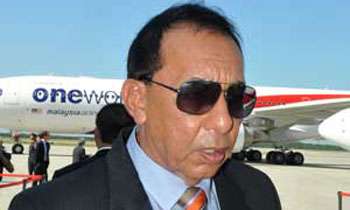 Within the period from 2012 to 2014, the then SriLankan Airlines Chairman Nishantha Wickremasinghe had allocated Rs.2.4 million for an apartment for a female Sales Support Officer in Dubai but previously it was claimed as an accommodation for executive trainees, it was told at the SriLankan Airlines Commission yesterday.
SriLankan Airlines, Head of Finance, Yasantha Dissanayake informed the Presidential Commission of Inquiry (PCoI) on irregularities at SriLankan airlines, SriLankan Catering and Mihin Lanka that the then Chairman Nishantha Wickremasinghe had directed the company finance division to allocate a monthly payment for an apartment in Dubai stating it was for executive trainees in Dubai but it was allocated for a person called Shehani Rodrigo, a Sales Support Officer in Dubai.
He said that the invoices of the particular apartment mentioned the particular female Sales Support Officer's name and not the company name.
"By the time we got to know about the incident she has taken the apartment on lease and was not a member of any training program. Periodically when we checked the stations we noticed the name of the invoices given as Shehani Rodigo and she was also paid with housing allowance as specified in the appointment letter," he said.
At the Commission, SriLankan Airlines Manager, Human Resources and Administration, Lasantha Liyanage informed that the particular female Sales Support Officer had previously served as a Flight Attendant at SriLankan and she had personally requested Chairman Nishantha Wickremasinghe to grant her no pay leave for a period of one year.
He said the Chairman had granted her one year no pay leave with a transfer to Airport Services and her first appointment was in Singapore as a Sales Support Officer. He said that this appointment was not informed to the HR division and it was not an approved position by the HR.
He also informed the Commission that by the time she resigned from SriLankan Airlines, the Company IT division had changed her designation to SriLankan Manager, Ticket office and Marketing in UAE, which was not approved by the HR division. (Yoshitha Perera)