---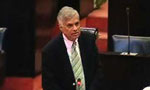 The government will introduce legislation to deal with the process of converting loss making state ventures into viable entities under a new formula, Prime Minister Ranil Wickremesinghe said in Parliament last week.
The Prime Minister said a board would be established under the provisions of this legislation to act in this regard, and it would report to Parliament.
"In my personal view, if a state venture is riddled with frauds or run at losses, either MPs or any other group should have the right to go to court. In the private sector, when a company is collapsing due to incompetence of administration, provisions are there providing for such action. We don't find such provisions in the government sector. If such provisions were available, these ventures would not be incurring losses," he said.
The Prime Minister said once the draft legislation was ready, Parliament could submit its views in this respect.
He was responding to a question by JVP MP Nalinda Jayastissa. He asked whether the government had planned to privatize state ventures and if so the modalities for it.
Mr. Wickremesinghe replied that state corporations were not profiteering, or otherwise the profit margin was very low.
"Then, we are grappling with a debt burden. Administration has collapsed. There are issues in state enterprises. When the 2016 budget was formulating, there were debts which were unaccounted for. Such borrowings not accounted for as part of national debt amounts top Rs.1300 billion," he said. (Kelum Bandara and Yohan Perera)