---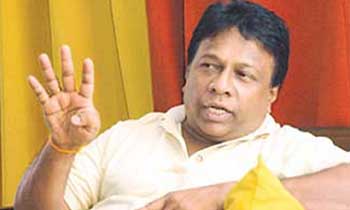 The joint opposition yesterday said that the process of making a new Constitution has now been turned in to an abhorrence and absurd discussion against the media and the Maha Sangha.
Joint opposition member MP Dullas Alahapperuma told a news conference that recently it was reported how Prime Minister Ranil Wickremesinghe had lashed out at the media institutions with regard to the Constitution.
"This discussion has now turned in to an anti-media discussion. They were saying that the media is in an attempt to unstable the government through this discussion on the Constitution," he added.
He said on the other hand, the discussion on the Constitution had been turned in to a discussion against the Maha Sangha and added that it was evident that the effort of these authorities for a changed-Constitution was dishonest.
Meanwhile, MP Alahapperuma said that the joint opposition was waiting for the Supreme Court's intervention to the petitions filed against the Provincial Council Elections (Amendment) Bill, which was passed in Parliament in September in an unlawful manner.
"Former chief justice Sarath N. Silva, joint opposition leader MP Dinesh Gunawardena, Prof. G.L. Peiris, MP Udaya Gammanpila and I have filed petitions against the Provincial Council Elections (Amendment) Bill," he added. (Kalathma Jayawardhane)