---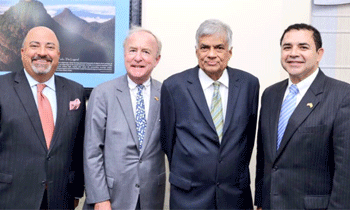 A bipartisan delegation of US congressmen who arrived in Sri Lanka on Wednesday had assured the full support of the US Government to the Sri Lankan Government's efforts to work out a new Constitution.
In a statement, the US Embassy said Congressman Rodney Frelinghuysen of New Jersey and Congressman Henry Cuellar of Texas held productive meetings with Prime Minister Ranil Wickremesinghe, Speaker Karu Jayasuriya and Opposition Leader R. Sampanthan on Thursday.
In their meetings, the congressmen said the US fully supported the attempts by the government to strengthen democratic rights for Sri Lankans of all ethnicities, ensure reconciliation and foster greater prosperity in all regions of the country.
"This visit demonstrates the strong bilateral relationship between the United States and Sri Lanka. Across the three branches of the US government, we will continue to support Sri Lanka's commitments to constitutional reform, reconciliation, justice and economic prosperity," US Ambassador Atul Keshap said.
The two congressmen are visiting Sri Lanka during the US Congressional recess to emphasize continued US commitment to political reforms and economic growth in Sri Lanka," the statement said.