---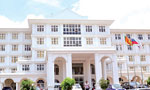 The Chairman of the South Asian Institute of Technology and Medicine (SAITM) in Malabe, Dr. Neville Fernando yesterday said he offered the 'Dr. Neville Fernando Teaching Hospital' to President Maithripala Sirisena to be used as a semi-government hospital.
He said the decision was made by him after realizing that poor patients, who come for treatment to his hospital, could not afford to pay for hospital charges.
The President was recently informed by Dr. Fernando regarding his offer through a letter, however he said the President had not yet responded to it. Dr. Fernando said the letter had been forwarded to the Health Minister Rajitha Senaratne by the President.
He said at the moment, the ministry was going through the proposal made by him, and it might take some time for them to make a final decision on the matter.
"I built the Neville Fernando Teaching Hospital and equipped it with all the modern hi-tech equipment. This includes 6 surgical theatres, with one having a camera in the light and which could be focused on the site of the surgery and the picture telecast to the lecture hall where the students are seated. The 1000 bed hospital was constructed at an investment of Rs. 2000 million for the use of students," Dr. Fernando said.
"When I realized that poor patients who come for treatment cannot afford to pay, I offered the hospital to the President to use it as a semi-government hospital. I also offered to pay the salaries of the professors and the senior consultants. The proposal was mine and in the best interest of the students," he added. (Piyumi Fonseka)