---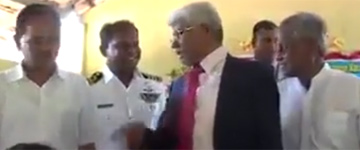 The navy today handed a report to the Defence Ministry requesting action be taken against Eastern Province Chief Minister Nazeer Ahamed for allegedly rebuking a naval officer at an event at the Sampur Maha Vidyalaya on Friday.
A video of the CM rebuking a naval officer, who was the compere at an event at the Sampur Maha Vidyalaya, went viral recently. Eastern Province Governor Austin Fernando and US Ambassador Atul Keshap also attended the event as Chief Guests.
Mr. Ahamed lost his cool when he had mistakenly assumed that the navy personnel was requesting him to move off the stage, when he had in fact only requested the media personnel to make room for students to come up on stage.
"Get out from here idiot. If you don't know what protocol is, just get out. Who the hell are you to stop me? Even you, the Governor, don't know what the protocol is. I respect the Ambassador much more. You should know Governor, you should know the protocol," he was heard saying.
Navy Commander Ravindra Wijegunaratne yesterday said that he handed over a report on the incident to the Defence Secretary Karunasena Hettiarachchi.
"We have handed over a report recommending the measures that need to be taken to the Defence Secretary yesterday. We are quite happy that the naval personnel did not act in a manner that made the situation worse," he said. (Darshana Sanjeewa)