---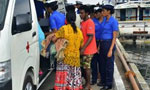 Seventeen Sri Lankans who were heading towards Australia illegally were arrested by the Navy yesterday in the seas off the Galle lighthouse.
Navy Spokesman Akram Alavi said the naval crew onboard ship SLNS Samudura, apprehended the migrants on a tip off received by intelligence personnel.
He said a woman, two small girls and two boys were among the arrested persons.
They had departed from the Negombo harbor onboard a fishing trawler called "Vindana 3" on March 1.
The arrested migrants were taken to the port of Galle and handed over to the Galle Police for further investigations.
Captian Alavi said that there is no use heading towards Australia illegally as the country had very strict laws against such migration.
He said regular patrols by the Navy and its strong network of intelligence made it near impossible to leave the country in such a manner.(DS)