---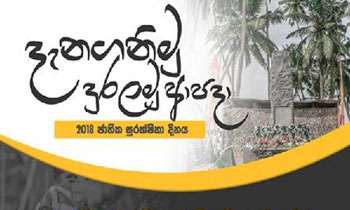 The Disaster Management Centre (DMC) is organising an event today to remember the victims of the tsunami catastrophe that took place 14 years ago - on December 26, 2004.
In 2005, a Cabinet Memorandum titled "National Safety Day" was approved to declare December 26 as a day to remember the people who perished in the 2004 tsunami. Awareness campaigns would be held in line with the commemoration.
The commemoration ceremonies would be held in 14 districts across the country. The main event will be held at the Peraliya Tsunami Memorial in Thelwatte, Galle at 9.25 a.m today with the participation of the three armed forces, police and the general public.
The DMC requested to conduct a two-minute silence to remember the people who were affected and died from the worst natural disaster in Sri Lanka. An earthquake occurred near the Sumatran Islands on December 26, 2004, at 06.58 am measuring the maximum Richter magnitude scale of 9.0. It was the sixth largest earthquake ever recorded in the world.
The tsunami hit Sri Lanka's eastern coast at 8.30am. 14 districts were affected by the catastrophe that snatched the lives of 35,000 people in Sri Lanka. (Chaturanga Samarawickrama)