---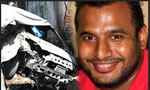 Colombo Additional Magistrate Augusta Atapattu today ordered that former Narahenpita Crimes OIC Sumith Champika Perera be remanded till May 12, while the CID asserted in Court that the investigation of an accident did not come within the purview of the crimes OIC.
Producing the suspect before the Magistrate in connection with the inquiry into murder of rugby player Wasim Thajudeen today, the CID said they were suspicions over the behaviour of the crimes OIC because he had given contradictory statements to the CID on six occasions.
They said in the statement made by the suspect to the Police he had said that immediately after the incident he informed about it to the OIC over the phone. But there was no proof to prove that assertion.
The CID said they were investigating to identify the person who gave instructions to the OIC to conduct investigations into the accident.
The detectives also said there was no entry made in the traffic note book and the police had not summoned the motor traffic examiner to the scene to conduct investigations.
The detectives requested the Magistrate to remand the suspect, since they had to record statements from constables of the Narahenpita Police and conduct further investigations further.
Counsel Ajith Pathirana and Anton Senanayake appearing for the suspect said the suspect had worked in the police department as an IP for over 18 years and immediately after the incident he was transferred to the Pedurutuduwa Police.
He said even though the CID alleged that the suspect had not performed his duties properly his client immediately after the incident had informed it to the SSP, the JMO had even called the police SOCO unit to conduct investigations and the Government Analyst to the scene. However investigations were meanwhile handed over to the CCD by the IGP.
The counsel said the offence was a bailable one and requested that the suspect be released on bail.
Counsel Mohamed Misba appearing for aggrieved Wasim Thajudeen's parents said at the time the accident, the police ruled that the incident was an accident and the Magistrate accordingly had given his decisions.
Later it was ruled a murder and ordered to conduct investigations to bring the culprits to book.
Therefore Mr. Misba said the police can remand a suspect on suspicion even before investigations.
The Magistrate Augusta Atapattu said that she was only aware of the facts disclosed by the media over the case and said she would remand the suspect till May12 and ordered the parties to make submissions before the permanent Magistrate who is inquiring the case. (T. Farook Thajudeen)