---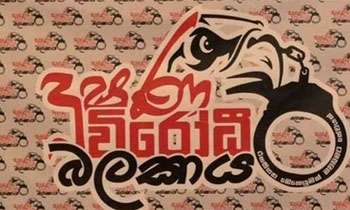 The Criminal Investigation Department(CID) grilled for seven hours Namal Kumara who revealed as to how DIG of the Terrorist Investigation Division Nalaka Silva informed him of a plot to lay harm on the lives of President Maithripala Sirisena and former Defence Secretary Gotabaya Rajapaksa by using underworld criminal Makadure Madush who is absconding court at the moment.
Namal Kumara, a leading figure of the organization identified as an anti-corruption movement, was questioned regarding the revelation he made in this regard.
A team of Police Special Investigations Unit had gone to Namal Kumarage's house to obtain a statement over this matter. DIG in charge of CID, Ravi Senevirathne had informed Namal Kumarage over the phone and said that a team of police officers were coming to his house because the President had assigned this inquiry to the CID.
According to this information, a top police officer said that the Police Special Investigations Division officers have left his house and a team of CID officers had taken statements from him.
In the meantime, Namal Kumarage said that the video connected to this incident would be handed over to CID today at 9.30 a.m. as informed by CID.(Indika Ramanayaka)