---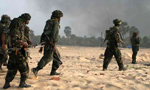 The National University Teachers' Association (NUTA) is to publicly quash the assertion by a section of the international community and some other organisations that 40,000 civilians were killed during the final stages of the war.
NUTA secretary Dr. Channa Jayasumana, who is a lecturer at the Rajarata University, told Daily Mirror yesterday that this was a falsehood and that he, along with other university academics attached to his organisation, would prove it with facts and figures.
"This is a false story created by those sympathising with the cause of the LTTE. We can academically prove that 40,000 civilians were not killed. It is an allegation cooked up by a section with vested interests," he said.
He said NUTA would also campaign against the government's move to enact the Office of Missing Persons Bill in Parliament.
"We will create greater awareness among people," he said.(Kelum Bandara)